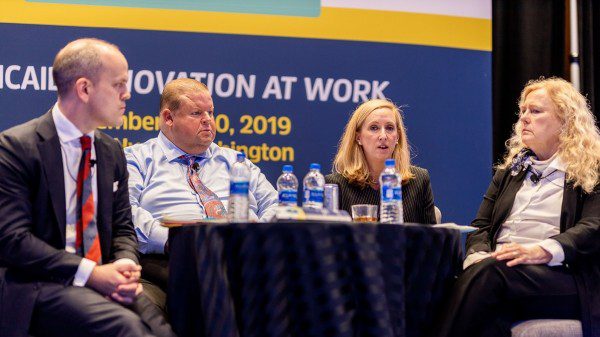 Exhibit or Sponsor at MHPA23
Looking to strategically engage with attendees at the nation's largest Medicaid-only conference in a unique, targeted way?  As an exhibitor or conference sponsor, you'll gain access to leaders in multi-state Medicaid managed care plans, commercial insurers with Medicaid lines of business, and single state for-profit and not-for-profit plans to help drive innovation and quality for our members and government partners. A number of sponsorship opportunities are available at MHPA23 to accommodate a variety of budgetary needs. Download the MHPA23 Exhibitor & Sponsorship Prospectus  or scroll below for all the details.
BOOTH SIZE 10'X10' - $15,000
BOOTH SIZE 10'X20' - $25,000
Booth Purchase Includes the Following:
One (1) 10-ft. x 10-ft. or 10-ft. x 20-ft booth, located in the exhibit hall where all meals, on-site receptions, and refreshment breaks will take place
Booth drape (8' high backdrop, 3' high side rails), 7" x 44" company ID sign with booth number, (1) 6 ft. draped table, (2) side chairs, and (1) wastebasket
Two (2) complimentary registrations and the ability to purchase additional registrations
Company recognition (logo and/or description) in the conference program, website, and mobile app
Conference registration list pre and post event (name, title, and organization info)
Important Exhibit Dates
Exhibitor Set-up: October 18, Noon - 4:30 p.m.
Welcome Reception: October 18, 5:30 p.m. - 7 p.m.
Exhibits Open: October 19, 7:30 a.m. - 7 p.m.; October 20, 7:30 a.m. - 2 p.m.
Exhibitor Teardown: October 20, 2 - 4 p.m.
$50,000; Four (4) Available for Medicaid MCOs Only)
Opening remarks at a plenary session during the conference
Company/logo acknowledgment on walk-in slides during applicable event
Recognition in the conference program
Eight (8) complimentary MHPA23 registrations
$15,000 per session; 15 Available
Sponsor a specific breakout session in one of the FOUR MHPA23conference tracks
Opportunity to introduce the session's topic and presenters
Company/logo acknowledgment on walk-in slides and session signage
Recognition in the conference program
Two (2) complimentary MHPA23 registrations
$15,000 per session; Two (2) Available
Company logo on signage at food buffet and expo hall entrance
Recognition in the conference program
Two (2) complimentary MHPA23 registrations
$15,000; Two (2) Available 
Company logo on signage at food buffet and expo hall entrance
Recognition in conference program
Two (2) complimentary MHPA23 registrations
$15,000; Three (3) Available
Company logo on signage at food buffet and expo hall entrance
Recognition in conference program
Two (2) complimentary MHPA23 registrations
$30,000; Two (2) Available
Company logo on signage at the expo hall entrance
Option to provide logo on cocktail napkins on bars
Recognition in conference program
Three (3) complimentary MHPA23 registrations
Conference Registration (SOLD)
$30,000; Exclusive
Company logo on signage at registration desk (open every day of the conference) and on registration check-in kiosks
Recognition in conference program
Three (3) complimentary MHPA23 registrations
$30,000 - Exclusive
Company logo on attendee badge
Three (3) complimentary MHPA23 registrations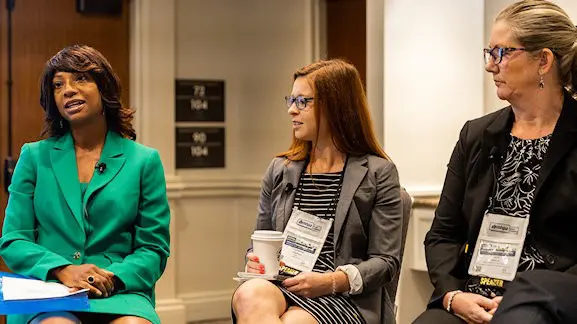 $5,000 – Exclusive
Company logo on conference bag
$1,000
Company-specific insert placed into attendee bags
$15,000 – Exclusive
Unique company password & landing page
Recognition in the conference program
Two (2) complimentary MHPA23 registrations
$15,000 – Exclusive
Company logo to be printed on the hotel key card

Two (2) complimentary MHPA23 registrations
Banners, Column Wraps & Floor Decals
$5,000 and up
Company logo on banners, columns or floor decals in designated conference spaces
One (1) complimentary MHPA23 registration
$3,000; Two (2) Available
Company logo on charging station
Recognition in the conference program
One (1) complimentary MHPA23 registration
Email Blast to Registrants
$5,000
One (1) complimentary MHPA23 registration